History of Smith School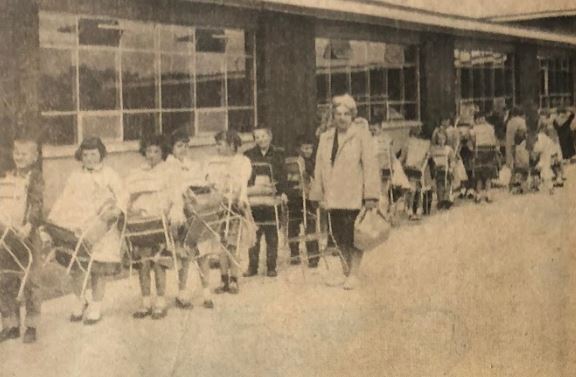 F.E. Smith Elementary School is named after Ferdinand E. Smith, who served as both Superintendent of Cortland City School District and Principal of Cortland High School from 1886 to 1932.
F.E. Smith Elementary School was built in 1957 to replace the Homer Avenue school. The need for a new school was evident as the Homer Avenue school did not have modern facilities like a gymnasium, and the population of Cortland kept increasing. The new school was to serve the residential areas to the North and Northwest.
In 1957, the first steps of construction of Ferdinand E. Smith Elementary School on Wheeler Avenue were taken. Like Randall and Parker, construction on F.S. Barry and F.E. Smith happened simultaneously. Both schools were built to accommodate grades kindergarten through sixth.
F.E. Smith Elementary School housed the first elementary library in the Cortland public school system and was opened on April 21, 1959. Superintendent of Schools, Franklyn S. Barry attended the ribbon cutting ceremony. Libraries were added to the other elementary buildings soon after.

In May 1959, the school dedication ceremony was held. The past President of the NYS School Boards Association, James E. Lanigan, presented the school to Mrs. Stewart A. VerNooy, president of the Board of Education. The total cost of construction for the school was $850,000. The ceremony spoke of F.E. Smith as "someone whose standards and belief in good education have set the pattern for the high quality of education demanded by the people of Cortland in their schools."
By 1980, improvements were needed to make the school more handicap accessible, and to increase the health and safety of our students. The School Board put forth a $1.1 million capital project to address issues at both F.S. Barry and F.E. Smith Schools. At F.E. Smith School, work needed to be done to put in a circular bus loop that would allow for both the entrance and exit to be on Wheeler Avenue.
Pre-school was first offered to students at F.E. Smith Elementary School in 1992. The program was held in the gym and ran from 9:45 a.m. to 11:45 a.m. Only students that would be attending kindergarten the following school year were eligible to attend. Objectives of the program included: familiarizing students with school, promotion of positive self concept, auditory perception skills, and improving fine motor skills.

More renovations were scheduled for 1993 as part of a districtwide $11 million capital project. Parents and community members were invited to get a tour of the school and the new renovations and additions. Renovations included more space for preschool programs, and upgraded classroom spaces.
Throughout the history of F.E. Smith Elementary School, students from grades K-6 have attended school there. Starting in the 2019-2020 school year, students in grades 3 and 4 will be attending F.E.Smith Elementary School as part of the grade center reorganization.