Early Childhood Education (Pre-Kindergarten)
Universal Pre-Kindergarten (UPK) offers a high quality, early education program that includes learning, fun activities,
and nutritious meals in safe neighborhood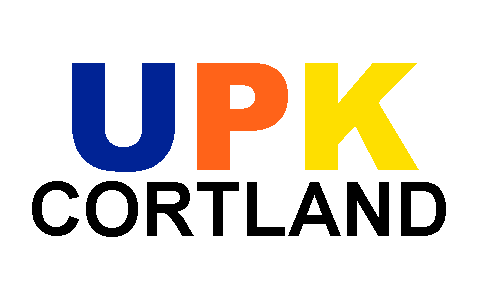 centers. This free, half-day program promotes early education and independence through creative play experiences with other children and is staffed by caring professionals. In Cortland, there are several different providers of UPK that collaborate within a grant that is facilitated by the Cortland Enlarged City School District.
Registration for the 2023-2024 school year opens on March 21, 2023. To be eligible your child must reside in the Cortland Enlarged City School District and have a birth date between December 2, 2018 and December 1, 2019. Beginning February 10, 2023, applications will be available at all Cortland Schools, the Kaufman Center, pediatricians' offices, local preschools and daycare centers. In-person registration will be conducted at the Kaufman Center beginning March 21, 2023, at 8:00 a.m. Early arrival is encouraged, as slots will be awarded on a first-come basis. For more information, call 758-4100 x 2220.
Participating Centers include:
CAPCO Head Start Program (Program held at Randall, Smith) (607.299.4795)
Cortland County Child Development Center (607.758.9325)
SUNY Cortland Child Care Center (607.753.5955)
Racker (607.753.9375)
YWCA Here We Grow (607.756.6070)
Contact with Centers you are interested in, prior to registration, is encouraged.

Registration Form: Please print out and submit this form. LINK