Cortland High School Alumni Association
Information and Purpose
The CHS Alumni Association (CHSAA) is an organization that welcomes participation from any person who has attended or graduated from Cortland High School, as well as any past or present employee of the Cortland Enlarged City School District.

The purposes of CHSAA are to provide services to alumni and encourage alumni advocacy for the school district by:
Acting as a clearing house for the distribution of alumni information

Supporting class reunion activities

Coordinating alumni activities

Providing an academic scholarship program for CHS Students
Recognizing outstanding achievements of CHS alumni by supporting the efforts of the CHS Distinguished Alumni Wall of Fame Committee.
Cortland High School Wall of Fame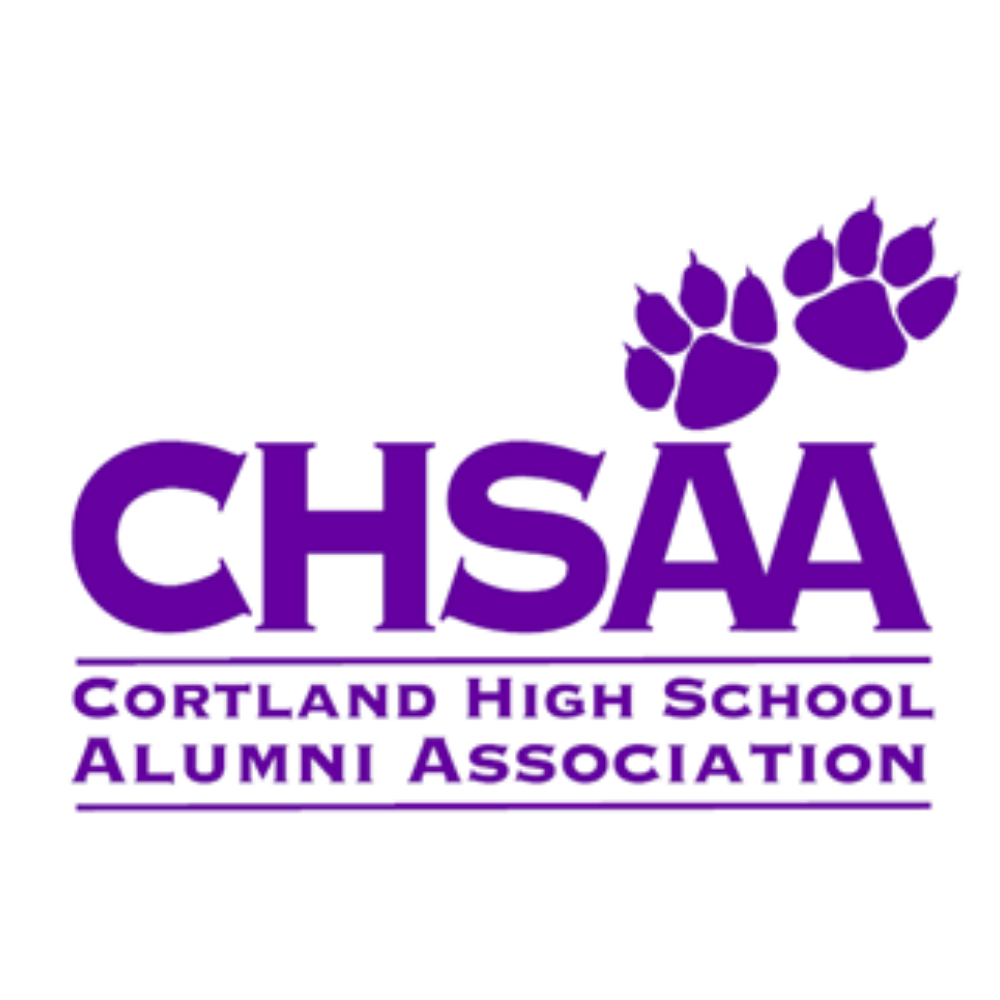 Cortland High School Wall of Fame was established in 1999 by John Pilato Sr, Jr. High Administrator. First induction ceremony was in 2000 with the induction of 9 alumni. To date, over 50 CHS alumni have been inducted to the Wall of Fame. During the 2014 induction ceremony, the name of the Wall was officially changed to The John J. Pilato Sr. Distinguished Wall of Fame at Cortland High School in honor of John Pilato who was the impetus for establishing the Wall of Fame.

We have not had an induction ceremony since 2018 because of Covid, but on October 1, 2022, 9 new CHS alumni are being inducted. They are: Polly Berardi, class of 1954 - Community Service, Phillip Cinquanti, class of 1952 - Community Service, Gary Decker, class of 1988, Community Service, Sean Michael Fox, class of 1980 - Business, Clair Gutchess, class of 1920, Business, Lawrence Hinkle, class of 1972, Education, Gladys Larson, class of 1991 - Public Service, Kaaren Pierce, class of 1960 - Education, Dr. Melissa Deering Whidden, class of 1996 - Medicine.

MISSION:
It is the mission of the Committee of the John J. Pilato Sr. Distinguished Alumni Wall of Fame to: Recognize and commemorate Cortland High School graduates who have made outstanding contributions in the areas of, but not limited to, education, sports, medicine, business, science/technology, government, civil service, religion, and performing arts. The mission also sets forth goals to deepen the understanding and appreciation of the contributions made by distinguished Cortland High School alumni so that they may serve as role models for the student body and a source of pride for the community at large.
THE NOMINATION PROCESS:
The Distinguished Alumni Wall of Fame award is the highest honor that can be granted to Cortland High School alumni. To be eligible, nominees must be graduates of Cortland High School who have been out of school for at least 20 years. They must have made outstanding contributions in their field and/or in their community. Nominees may be living or deceased. Nomination forms are available from the CHS Jr. High Principal's Office, the Board of Education Office, the Cortland Free Library, and on this website. There is no limit on the number of graduates that you may nominate. Completed forms are returned to the Wall of Fame Committee in September c/o Cortland High School. Each nomination is reviewed by all members of the Committee before selection is made. This process is repeated every two years. Successful nominees are honored with a ceremony and reception, and a commemorative clock.

Nomination Form LINK

Brief History of the Wall of Fame
The Cortland High School Distinguished Alumni Wall of Fame first began when John Pilato Sr., then Jr. High Principal at Cortland High School, had the idea to form a committee to honor outstanding CHS alumni. Mike Doughty, then Executive Principal, joined John to lead this committee. In 1999, John & Mike assembled a small group of volunteers, representing several decades of CHS alumni classes, to form the Wall of Fame Committee with administrative assistance from Donna Kinney. In a short period of time, this group created by-laws, advertised their mission, accepted and reviewed nominations, and in December of 2000, they inducted the first class of nine distinguished alumni to the CHS Wall of Fame. Inductions have been made every two years since that time. Succeeding John and Mike as Principal Liaison were Kristie Bliss in 2005 followed by Kevin Cafararo in 2008.
In 2013, John Pilato lost his battle to cancer. At the 2014 Wall of Fame induction ceremony, as a tribute to his vision and dedication, the Wall was renamed in his honor to be known from that point forward as the John J. Pilato Sr. Distinguished Alumni Wall of Fame at Cortland Jr. Sr. High School.

This organization is fully supported by the Cortland Enlarged City School District Board of Education, without whom, the Distinguished Alumni Wall of Fame could not exist.
Announcements
Wall of Fame Committee

Stay tuned for an announcement for the 2024 induction ceremony date.

Link to 2018 Ceremony video:

https://ensemble.cnyric.org/hapi/v1/con tents/permalinks/f6DYx9i8/view

2018 John J. Pilato Sr. Distinguished Alumni Wall of Fame Honorees and Induction Ceremony Announced

The Committee of the John J. Pilato Sr. Distinguished Alumni Wall of Fame at Cortland High School is proud to announce its 2018 inductees:

Kenneth Sherry, '44 (government/law)

John Halstead, '66 (education)

Diane Vecchio, '67 (history)

Anthony DiLucci, '73 (education)

John Sipher, '79 (government)

Sponsored by the Board of Education, the Wall of Fame Induction Ceremony was held at 7:00 pm, Saturday, April 28th at the Cortland Jr. Sr. High School auditorium. There was a reception with refreshments following the ceremony.

The ceremony and reception are open to the public and there is no cost to attend.


The CHS Distinguished Alumni Wall of Fame Committee is a group of CHS graduates who, with support from the Board of Education, volunteer their time to promote recognition of Cortland High School's outstanding alumni. They review all nominations, make selections, and plan induction ceremonies. We are grateful for the hard work and dedication of these people, without whom, these efforts would not be possible.

Ex-Officio:
Kevin Cafararo, Jr. High Principal Liaison
Lauren Mossotti-Kline, Board of Education Liaison
Judi Riley, Administrative Support
Donna Kinney, Secretarial Support

Voting Members:
Johanna Ames, 1994
Mary Lou Bordwell, 1971
Amy Buggs, 1988
Tony Catalano, 1965
Tara Contento, 2010 (Secretary)
Jeff Guido, 1986
William "Bill" Kulikowsky
Mick Lowie, 1972 (Chair)
Amanda Nauseef Steinhoff, 2010
Robin Nauseef
Tom Neugebauer, 1991
Vacant Seat, TBD
Vice Chair, TBD

Master of Ceremonies:
Bill Lee/Jeff Guido

Former Committee Members:
Marion Natoli Atkinson, 1950
Diane Bundy Martin, 1988
(Ruth) Kay Wood Burns, 1957
JoAnn Testa Call, 1993
Kate Circio, 1971
Elaine Contento, 1958
Debbie Williams Elliott, 1984
Bella Fabrizio, 1936
Helen Graham Hart, 1942
Becky Gosse Loiacono, 2005
Donald Hay, 1966
Kathy Poole, 1969 (St. Mary's)
Bailey Reagan, 2008
Linda Contento Schmidt, 1972


Wall Inductees



Stay Connected
Foster the spirit of your alma mater! The CHSAA is a great way to stay in touch through past relationships, present students and events, and future opportunities to keep CHS a school of which we can all be proud.
One important way you can assist CHSAA is to keep us informed of where you are now. Help future generations of graduates get the most out of their high school experience by showing support & enthusiasm.

Use this link to complete a brief form to stay connected. If you would like to increase your involvement, we encourage you to join one
of our committees using this link.

Wall of Fame By-Laws

Follow us on Facebook
Link to our Facebook page here: LINK