National Honor Society Inducts Members
On the evening of Monday, October 17th, Cortland High School inducted 33 students into
the Ferdinand E. Smith National Honor Society. National Honor Society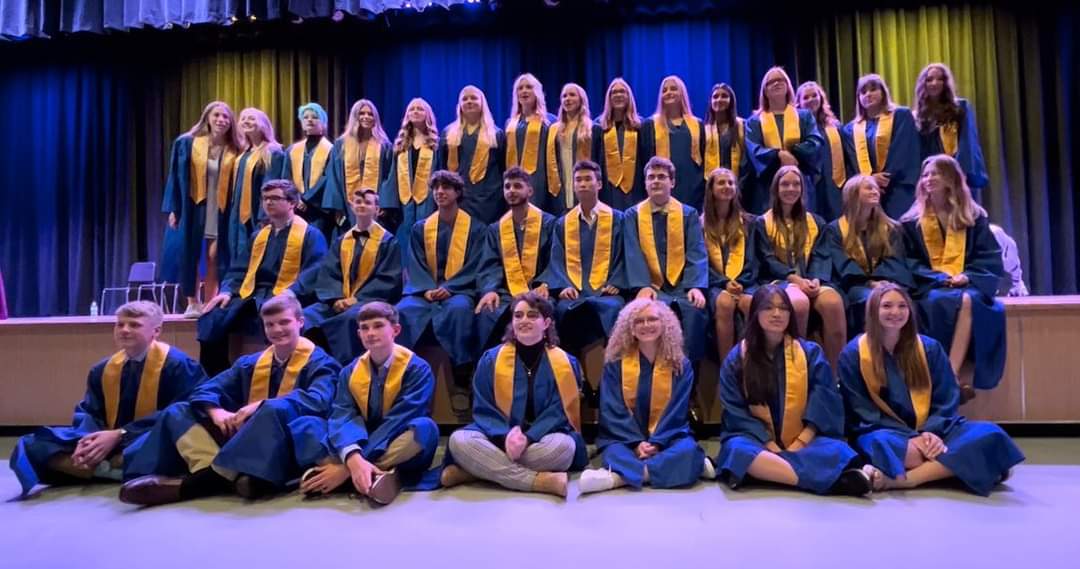 membership is for students in grades 11-12 who embody traits in the four pillars: Scholarship, Service, Leadership and Character.
Scholarship
Per national guidelines, at a minimum, students must have a cumulative GPA of 85, B, 3.0 on a 4.0 scale, or equivalent standard of excellence. Our local chapter requires a higher GPA than the national guidelines.

Service
This involves voluntary contributions made by a student to the school or community, done without compensation. Many of the students provided tutoring over the course of the past year, assisted with local shelters or aided in events held by non-profit organizations.

Leadership
Student leaders are those who are resourceful, good problem solvers, and idea contributors. Leadership experiences can be drawn from school or community activities while working with or for others.

Character
The student of good character is cooperative; demonstrates high standards of honesty and reliability; shows courtesy, concern, and respect for others; and generally maintains a clean disciplinary record.
Students who meet the scholarship requirement will have an opportunity to complete a form detailing their accomplishments. Their demonstration of the four pillars is then presented to a Faculty Council made up of 5 staff members in the high school. The Faculty Council then determines who meets the guidelines to join the current year's class of National Honor Society inductees.
Throughout the course of the year, the members must maintain their good standing in order to wear their honor cord at graduation. This is done through completing a minimum of 30 hours of service per year, designing and completing a service project of their own, maintaining their GPA, and upholding their good character.

We would like to congratulate the 33 new members of the NHS.

Avarie Armstrong
Annette Barnes
Ashley Beams
Jadyn Beams
Brianna Bergene
Alyvia Bishop
Alexis Brown
Campbell Bush
Avery Canzano
Spenser Dodds
Gage Femino
Madison Fitch
Valerosa Gambitta
Brenna Hogan
Ethan Johnson
Kendal Keep
Ethan Kelsey
Rileigh Madden
Sydney Markoff
Karamia Montalvo
Lauren Mott
Vincenzo Perfetti
Jack Phelan
Alina Smith
Constantine Souzas
Ella Starinsky
Molly Steve
Meilynn Stoll
Maude Terwiliger
Claire Turner
Reese Whitney
Sarah Williams
Christopher Yang