Art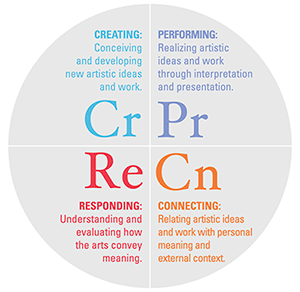 The Anchor Standards from the draft of New York State Standards for Visual Arts and Media Arts:
Generate and conceptualize artistic ideas and work.
Organize and develop artistic ideas and work.
Refine and complete artistic work.
Select, analyze, and interpret artistic work for presentation.
Develop and refine artistic techniques and work for presentation.
Convey meaning through the presentation of artistic work.
Perceive and analyze artistic work.
Interpret meaning in artistic work.
Apply criteria to evaluate artistic work.
Relate and synthesize knowledge and personal experiences to inspire and inform artistic work.
Investigate ways artistic work is influenced by the societal, cultural and historical context and, in turn, how artistic ideas shape cultures past, present and future.
Search art curriculum resources by grade level by clicking in this chart: