District News
Next >> Viewing 1 - 20 of 94 stories
Cortland Student 11, Clears Fire Hydrants for Emergencies:

Blayke Austen-Hines is a typical 11-year old boy who does typical eleven year old boy things. One thing that Blayke does that might not be quite so "typical" is that Blayke works hard to keep the fire hydrants in his area cleared of snow just in case of an emergency. One of those emergencies happened recently on Maple Avenue in Cortland that brought thirty firefighters in to fight a fully engulfed fire that spread quickly and intensely. The Chief of the Cortland Fire Department stated that if firefighters had to take time to chip all of the heavy snow and ice off of the fire hydrant it would have added time to get to the fire. Delaying the process to get water on the fire leads to big problems and can mean lost lives and more damage to structures. Thanks to Blayke, ...
Spreading COVID-19 Awareness Through Hand Made Masks:

By Victoria Ramiza, 8th Grader, Cortland Jr. High School. P.S I Love You Day was the second Friday of February. It helped to bring awareness to mental health, bullying, depression, and suicide. The Cortland Jr/Sr High School is one of several schools that spreads these messages in many different ways. The P.S I Love You group has made T-shirts to sell as a fundraiser as one way to spread the message in the past. This year, they have taken a different approach: Masks! Since everyone is now required to wear masks at school and other public places, masks are an effective way to spread awareness during the pandemic. Teachers in the Jr. High have donated several masks to the fundraiser. Some have gotten together after school to cut out and sew masks. Team 3 math teacher, Mrs. ...
Cortland 8th Grade Students Inducted into the Jeunes Amis du Français:

On February 4, 2021, in-person and virtual students were inducted into the Jeunes Amis du Français by 8th grade French Teacher Austin Wilson. Students recite an oath in French and participated in a candle lighting ceremony. The Jeunes Amis du Français of Cortland Junior High School, a chapter affiliated with the American Association of Teachers of French (AATF), is an Honor Society for students enrolled in the French I (8th grade) section for high-school credit. The purpose of the society is to recognize the high achievement of junior high students in the French language and to promote a continuing interest in French and Francophone studies. Once elected, students assume a leadership role in promoting awareness of the French program both within CJHS and within the community. ...
Wi-Fi On Cortland School Buses:

The Cortland Enlarged City School District is very excited to be installing new Wi-Fi units on four of its school buses. The Wi-Fi will allow students to use their Chromebooks and other devices while riding to and from school. This access will be invaluable when students ride the bus to sporting events and long trips. Potentially, the buses could also be used as a mini community Wi-Fi spot for areas that don't have Wi-Fi. While testing out one of the buses equipped with Wi-Fi, the range was easily more than 300 feet. With such a strong range a bus could be used at a sporting event so that students not competing could do homework or save stats for a particular game in real time. We're testing the system on one bus now, but the other units will be installed soon. Students ...
KC staff Make Donation to the Purple Pantry:

Alex Shaffers' Purple Pantry is now a well known part of the Cortland Enlarged City School District. All students in grades 7-12 can stop by for a "grab and go" bag of food or they can select items from a wide variety to take home. Recently, the Kaufman Center (KC) staff found out that there was a need for certain items in the pantry. A two-week campaign was organized to collect those items and KC staff were very generous in their donations. Food items along with cash collected, were delivered to Alex and Mr. Zarcone on one of the first sunny days of January! Alex was very thankful for the donations and is very pleased that the Purple Pantry will continue to supply students and local families with food items even after Alex graduates!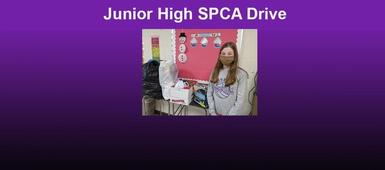 JH SPCA Drive:

This year, the Junior High Student Senate selected a community drive on which to focus, and as a school decided to help the local SPCA. The SPCA has a wish list on their website. JH students decided to work to fill that need. Cortland JH 7th and 8th grade students and staff started the drive in December, but due to switching to remote learning, the drive was cut short. Once in person learning resumed, it was decided that the SPCA drive would continue throughout the school year. Students are extremely passionate about this drive and want to work on it through the remainder of our school year. To date, 123 items have been collected and delivered. Thanks go out to Stacy Rice who is making the deliveries (several loads) to the local SPCA on McLean Road.
Cortland Schools Welcomes New Business Administrator:

The Cortland Enlarged City School District is pleased to introduce our new Business Administrator: Mrs. Laurie Widman. Mrs. Widman comes to Cortland from the Oriskany Central School District where she was the business administrator since 2018. Mrs. Widman went to college in Buffalo, earning her undergraduate degree from D'Youville College and then receiving her Masters and Administrative Certification from the University at Buffalo. Mrs. Widman was a business education teacher from 2006-2018 in the North Tonawanda school district. The District searched for its new business administrator following the resignation of Kim Vile who had been in the position for a little more than five years. Ms. Vile has recently moved on to the Baldwinsville School District. ...
Fourth Graders get Poems Published in the Cortland Standard:

The 4th graders at Smith Intermediate School have been learning about poetry in ELA. They have been reading the book "Love That Dog" by Sharon Creech and reading real poems written by poets like Robert Frost, William Carlos Williams, and others. They used these poems as inspiration to try writing their own poems. When students learned that the Cortland Standard was going to be printing a "Poetry Page" in the paper on December 26th, many of them wanted to submit their poems to the paper to see if they might be selected, and exciting news - three of our 4th graders will be included in the paper's "Poetry Page"! Congratulations to Landon Arnold, Jax Ellis, and Sadie Young! They are now officially published poets!
Spelling Bee:

STORY UPDATED! Some kids play football, some kids play soccer, others play chess or spell. That's right, they spell as in competitive spelling competitions. The Scripps National Spelling Bee is a competition that is held each year and was started in 1925. Since then students from around the country compete to reach the national level. Recently, the Cortland Enlarged School District held its 2020-21 Spell-off. Any student who has not reached the eighth grade before August 31, 2020 or reached their 15th birthday on or before August 31, 2020 is eligible to compete. All students compete at the same grade level. Cortland is proud to send three students to the first level of competition in Syracuse held on Saturday, January 23. Those students are Kaleb Krissel, Xzavion ...
JSHS Remote Learning 12/14/20 - 1/4/21:

On December 11th, the district along with the Cortland County Health Department conducted contact tracing protocol that included junior and senior high school students and staff. In reviewing the initial data with Mr. Mack and Mr. Cafararo, it became evident that the Junior High School and High School programs would need to be remote during the period of quarantine. For that reason, it was decided that all grades 7-12 would need to be in an all-remote learning situation beginning Monday, December 14 through Wednesday, December 23. In-person learning will resume on January 4th. Mr. Edwards along with Cortland Schools Administrators are thinking of the students and staff in quarantine and are sending out positive thoughts. Previously, some parents have asked how they can help ...
Food Services During COVID-19:

For school districts across the country the COVID pandemic has made planning and re-planning and then planning again a daily occurrence. Just when school leaders feel they have something worked out, COVID throws another punch at them and they have to toss out all of the plans they just worked to create to make new ones. Transportation, cleaning and food services all have to make hourly changes to current plans to accommodate students and families as best they can. The district offers breakfast and lunch to every single student free of charge every single school day. During the national pandemic with a large portion of Cortland students learning from home and schools closing on a moment's notice this has become a virtual chess game of planning and then changing plans over and ...
SCHOLAR-ATHLETE TEAM NOMINATIONS 2020:

The New York State Public High School Athletic Association (NYSPHSAA), Inc. believes that the athletic participation of students enhances their academic performances. To support this belief, the Scholar/Athlete Team Award Program began in 1991. Varsity teams who have 75% of their team earn a 90.0% or higher GPA during their season qualify for the NYSPHSAA award. Individuals can also qualify, if the team does not, with an average of 90% or better. Team nominations from the Cortland Senior High School for the Fall 2020 season are: Boys Cross Country, Field Hockey, Golf, Boys Soccer, Girls Soccer, Girls Tennis and an individual honor from the Girls Cross Country team Alexis Brown. Cortland Schools is very proud of their student athletes. Any student who works hard on and off the field ...
Winter Concert Series:

The Music and Video Departments at Cortland Schools are very excited to offer the public a wide variety of past student concerts to wipe away those winter blues. The series starts with a recording from 2008 from the now closed Virgil School. Every grade is represented and some of those students are seniors this year at the high school. On 12/2 the concert was from 2009 and featured all of the students from Parker. One concert will come out every weekday during the month of December. Concerts will be loaded onto the Cortland Tiger Videos page every day of the week so that people can watch the performances at their leisure. Not only will viewers be able to see the shows on their computers or internet connected devices but they can also see the performances on Spectrum local ...
Superintendent's Budget Message:

On December 2nd, Superintendent Robert Edwards addressed the Cortland community live via videostream, explaining how COVID-19 has made our tight financial situation even tighter. Forecasts for the year, when considering potential cuts in state aid, are gloomy. Therefore, an immediate spending freeze was announced. Contractual obligations will continue to be met; all other general fund spending will require the superintendent's approval. Think of these belt-tightening measures as similar to the decisions many people have had to make in their households during the pandemic. Superintendent Edwards concluded the message with reminders that the work, collectively, of each Cortland employee is the most important thing for the development and success of our students. No shifts in revenues ...
Education Live Broadcast:

Thanks to COVID-19 this has been a school year like no other. The Cortland Enlarged City School District has used a variety of methods to communicate with parents, students and guardians. Email, social media and newsletters are just a few of the ways the district uses to communicate with Cortland families. On Thursday, November 19, Cortland Schools used another method to reach Cortland households; Education LIVE aired live on Thursday, November 19, 2020 at 7:00 p.m. The show was broadcasted live and was hosted by Superintendent Robert Edwards. The program offered the opportunity for viewers to join in the conversation by calling in or emailing questions. For this, the inaugural episode, guests included Dr. Jeff Craig and Denise Fox. The primary topic for the show was the district's ...
Title 1 at Cortland Schools:

Title I (pronounced "Title One") is the largest federal aid program for elementary, middle, and high schools. Through Title I, the Federal government provides funding to school districts around the country based on the number of low-income families in each district. Each district uses its Title I money for extra educational services for children who are behind in school. Schools where more than half of all students are low-income can operate a school-wide Title I project. This includes all Cortland schools. Continue to read.
New Chromebooks:

Quality education for all during a time of national pandemic means that every student has the ability to get onto the internet for distance learning. It wasn't that long ago when each student was given a book to take home and use, to care for and return at the end of the school year. Yesterday's books are today's laptops and tablets. Across the country, school districts are dealing with the new reality that not all of their students have access to the internet. Thanks to a lot of hard work and long term planning, Cortland Schools has been able to put a device able to connect to the internet and Google Classroom in each and every student's hands. The district has been on a 5-year plan using different funding sources to replace current laptops with Chromebooks. SSBA funding ...
Purple Pantry Is On The Move:

When Alex Shaffer became aware of the issues that many Cortland families face regarding food insecurity, the Purple Pantry was born. Alex explained, "I saw a need because we have a backpack program for students at the K-6 level. So if high school students had a younger sibling they would get a backpack of food on the weekends. But if the high school student did not have a younger sibling, then the Purple Pantry could fill that need." Prior to COVID-19, the Purple Pantry operated out of the English Department book room. When the COVID-19 closure happened, Alex had food that was recently donated that had to get to people in need and so Alex set up a food pantry right next to the Parker Elementary School playground. Operating out of a garage was not the original ...
Bob Edwards Weekly Blasts:

Bob Edwards Weekly Blasts After teaching in the Cortland Enlarged City School District for more than a decade and pursuing other educational avenues, Bob Edwards returned to the District as the Superintendent with new and exciting leadership ideas, one of them being his Weekly Blast. School Superintendents these days must wear many hats. One hat is that of a Public Relations Director. In our video/electronics age it seems natural for a leader of any kind to use technology to reach out to the public so that people can see what is happening in their local schools. Bob Edwards' blasts, as he calls them, are put together by Cortland High School's extensive Video Department. Dan Devlen, Broadcast Production and Technology Specialist, explains that "each week, ...
COVID Response:

Beginning next week, we will be using a targeted response to keep our high school students in a distance learning situation for Monday, October 26 and Tuesday the 27. High school students will be back to in person learning on Wednesday, October 28. All other schools next week will be back to regular, in person learning on Monday, October 26. In early October while working with the Cortland County Health Department, it was concluded that there were several cases of COVID-19 in the Cortland Schools. After contact tracing was completed, we concluded that what we considered a significant amount of staff and students would need to be quarantined; it was at that point that the decision was made to go to two weeks of distance learning for the district while more contact tracing was initiated. ...
Next >> Viewing 1 - 20 of 94 stories