District News
Next >> Viewing 1 - 20 of 132 stories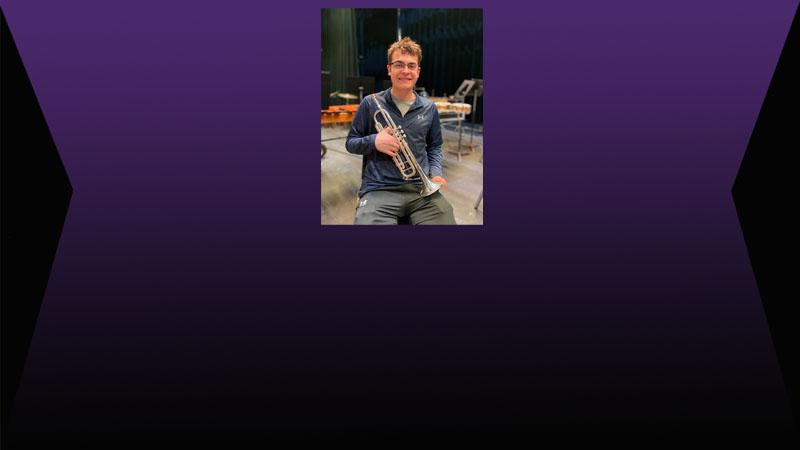 Cortland Musician Vincenzo Perfetti Recommended to Honors Ensembles:

Vincenzo Perfetti achieved a perfect score on his level 6 All-State NYSSMA solo in the spring of 2022. With that score, he was recommended to the 3 largest honors ensembles ranging from localized to state-wide festivals. It is always the hope that a student is accepted into at least one, maybe two, of these ensembles but Vincenzo was accepted into all three! Vincenzo recently participated in the most select honor band in all of NYS, the NYSSMA Conference All-State Symphonic Band in Rochester, NY. They performed at the Eastman Theater. Vincenzo's next adventure will be in the NYSSMA Zone 3 High School Area All-State Concert Band at Ithaca College in early February 2023. After that concert, Vincenzo's 3rd honor band will be at the NYSBDA (New York State Band Directors Association) ...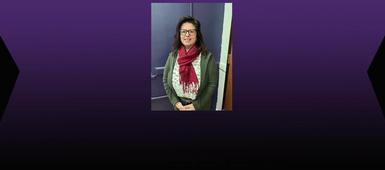 Cortland Teacher Receives Fulbright Award:

The Cortland Enlarged City School District is excited to announce that Sylvia (Amoreena) Tellaeche has been awarded the U.S. Distinguished Teaching Award and will participate in an international teacher exchange to Mexico. Mrs. Tellaeche was selected from a competitive group of applicants; there are only 20 teachers nationwide who achieved this honor in 2022. Director of Instruction, Equity and Instructional Personnel Jordan Ashley wrote that, "Mrs. Tellaeche sets the standard for what it means to be a professional educator dedicated to both her students and growing others within the profession. She consistently acts as a mentor and coach to new and veteran teachers while continuing to model best practice and professional growth." The Cortland Enlarged City ...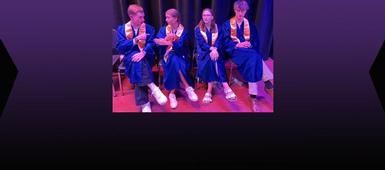 National Honor Society Inducts Members:

On the evening of Monday, October 17th, Cortland High School inducted 33 students into the Ferdinand E. Smith National Honor Society. National Honor Society membership is for students in grades 11-12 who embody traits in the four pillars: Scholarship, Service, Leadership and Character. Scholarship Per national guidelines, at a minimum, students must have a cumulative GPA of 85, B, 3.0 on a 4.0 scale, or equivalent standard of excellence. Our local chapter requires a higher GPA than the national guidelines. Service This involves voluntary contributions made by a student to the school or community, done without compensation. Many of the students provided tutoring over the course of the past year, assisted with local shelters or aided in events held ...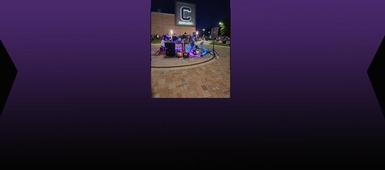 Modern Band Under the Stars:

The Cortland HS Modern Band opened up their show season with 'Modern Band Under The Stars' on September 29th, at 6:30. The show took place in the JSHS Courtyard for an end of summer celebration complete with hot cider, smores, and a little fire. People brought blankets and lawn chairs and enjoyed music by bands like System of a Down, Bon Jovi, and Nirvana underneath a starry sky. Everyone enjoyed the night and had a great time.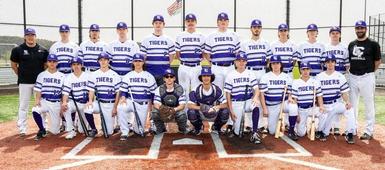 Cortland Varsity Baseball Team Had an Amazing Season:

This season the Cortland Varsity Baseball Team set out on a quest to get back to the top after coming up short last year in the sectional semi-final game. This group of seniors developed a long list of goals to accomplish this year including: ABCA Academic Excellence Award, NYS Team Scholar Athlete Award, Salt City Athletic Conference (League) Championship, Defeating Auburn and Advancing further in Sectionals than last season. The team was successful in achieving all of their goals! This group of seniors have played baseball together since their Little League days, all the way up through Varsity Baseball. To say that they play for each other is an understatement. Everyone on the team contributed to accomplish this successful season. Daily work was put in to keep healthy, ...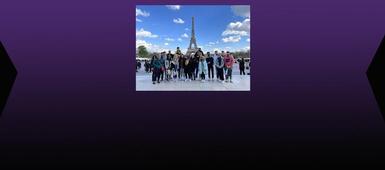 CHS Went to Europe!:

On the morning of April 7th, nineteen Cortland High School juniors and seniors left on a school bus headed to Newark Airport with three World Language teachers. This trip was 3 years in the making, obviously skipping 2021 due to the pandemic. The theme of our trip was definitely "just roll with it" and taught all of us that traveling is never, ever what you expect it to be. We landed in Paris on Friday, April 8th after a very long wait at the airport in the states and a 6+ hour flight to France. With a thankfully uneventful pass through customs and immigration, we met our wonderful tour guide, Emmanuelle, and off we went! Our first day in Paris was cold and rainy but we saw so much! We were able to see a great deal of the city on our walking tour including Notre ...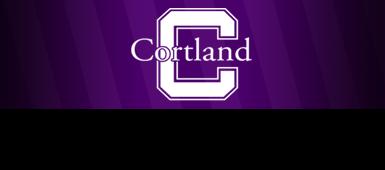 Music Students Participate in NYSSMA Solos:

The high school music department had two students, Vincenzo Perfetti and Amanda Hopko, perform at a NYSSMA (New York State School Music Association) solo festival in early April at Johnson City High School. Both of them performed at the highest level allowed by NYSSMA, level 6 All-State. Along with receiving written feedback and a score, their performances also serve as an audition to potentially participate in an All-State Band, Chorus or Orchestra next school year. Vincenzo performed Kent Kennan's Sonata for Trumpet and Amanda performed "Voi Che Sapete" from Mozart's opera The Marriage of Figaro as an alto vocalist. Each of them received a perfect score of 100. Amanda and Vincenzo will find out if they will be invited to attend All-State Conference in September. ...
Kindergarten Information:

It is now time to register your child for Kindergarten if they are eligible. You can register by calling (607)-758-4106, to make a registration appointment and to receive a pre-registration packet. In order to register for Kindergarten, your child must be 5 on or before December 1, 2022. Children who turn 6 before December 1, 2022 must attend school. All students must have a registration appointment prior to April 18, 2022. Once your child is registered you will be contacted by Cheryl Loope, Secretary at Barry Primary, to schedule another appointment which will be a screening appointment. The screening appointment will be in-person at the Kaufman Center in June and your child will come with you. More information about this appointment will be shared at your registration appointment. ...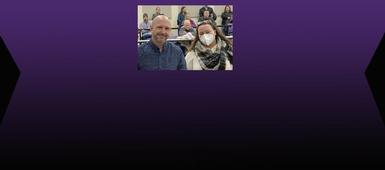 Two Cortland Teachers Earn Master Teacher Awards:

Being selected and named as a New York State Master Teacher is among the highest professional honors awarded to NY state's Science, Technology, Computer Science, Engineering, and Mathematics educators . NYS Master Teachers are recognized for their excellence and commitment to growth in Three Domains: the depth of their content knowledge, the effectiveness of their teaching practices, and the efforts and value they place on connecting with their students' families and communities. Ms. Ailport states that she is "honored to be recognized as a NYS Master Teacher." Mr. Wallis is also very pleased to have been selected for this honor. The Cortland community is very proud of Kristen Ailport and James Wallis who were awarded NY State Master Teacher ...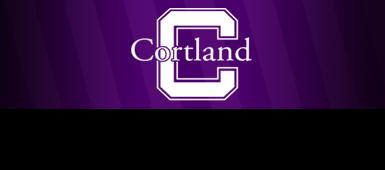 Spring CPEF 2022 Grants Awarded:

The Cortland Public Education Foundation (CPEF) has awarded seven grants totaling $3,963 to Cortland teachers. Recipients come from the High School, Junior High and Smith Intermediate School. CPEF is an independent, community-based, nonprofit organization that looks to enrich and broaden the educational experience for our young people in the Cortland Enlarged City School District. CPEF allocates funds for educational opportunities that fall outside the scope of the district's operating budget. The grants CPEF funds support innovative classroom and curriculum projects that promote educational excellence. Teachers apply for the grants to create programs or projects that will enhance the learning experience for their students. CPEF Award Spring 2022 Winners Drums Alive ...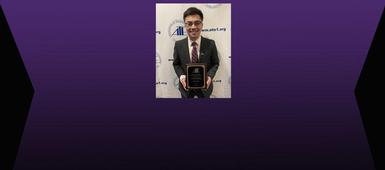 Cortland French Teacher Named as National Student Teacher of the Year:

The Cortland Enlarged City School District is proud to announce that our very own JH French Teacher, Bryan Tran, has recently been recognized as the 2021 KDP/ATE National Student Teacher of the Year. Since the award's establishment in 1994, KDP and ATE have named a very select few from around the United States as National Student Teacher/Intern of the Year. The award recognizes one student teacher/intern annually who has demonstrated the ability to plan and develop classroom management skills and instructional strategies that support all students; establish interpersonal relationships with students, parents, faculty, and staff; and reflect powerfully on their student teaching experience. Award winners are acknowledged with a $2,000 scholarship award and a speaking engagement. ...
HS Student Donates Hair to Locks of love:

Annette Barnes donated her hair to "Locks of Love." Annette heard about Locks of Love from a friend a couple of years ago. Annette and her father were trying to find companies that would accept 11 inches of colored hair, and that non-profit was one of the only ones that were able to take her hair. Locks of Love makes wigs for people with cancer or other issues that cause lack of hair growth. "No, it wasn't difficult at all" Annette states. "I've always wanted to do it thanks to the inspiration of my cousins and a couple of my friends." "The cutting process wasn't bad either. My grandma cut off my ponytail and then my boyfriend shaved off my head. I laughed a lot while getting it shaved because I was so excited for the results! My friends ...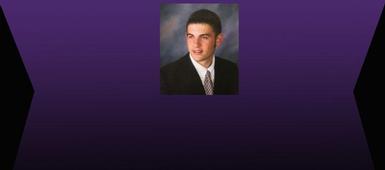 CHS Alum Makes it to the Super Bowl!:

In the 2005 Yearbook, Dan Pitcher's Senior Ambition was to "win the 2016 Madden Football Challenge." Imagine if someone from the future would have told Dan that he would one day go to the Super Bowl with the Bengals! Following graduation from CJSHS in 2005, Dan Pitcher was the quarterback for the Colgate University Raiders. Dan spent three years with the Raiders sitting out one season due to an injury and redshirting for another. From 2009 to 2011, Dan was the quarterback at SUNY Cortland and was a finalist for the Gagliardi Trophy (the Div. III equivalent of the Heisman Trophy). Dan joined the Red Dragons coaching staff In 2012 as their wide receivers coach. After one season with the Red Dragons, he moved onto the NFL. Dan was hired In 2013 by the Indianapolis ...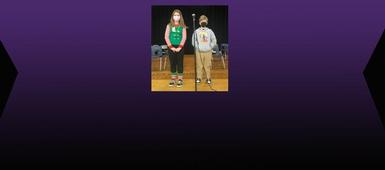 Randall Speller Moves On:

Congratulations to Randall Middle School 5th Grader Owen McGraw who is headed to the final oral round of The Post-Standard Syracuse.com Spelling Bee. Owen won the Randall Middle School Spelling Bee and competed in the regional round to qualify for the final round in Syracuse. Owen will now compete on March 5 at the Everson Museum in Syracuse. The winner of that competition will represent Central New York in the 2022 Scripps National Spelling Bee, May 27 through June 2, at the Gaylord National Resort and Convention Center in National Harbor, Maryland.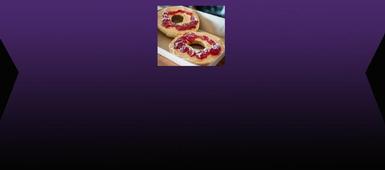 Peanut Butter and Jelly Drive:

Peanut butter and jelly, a staple in many pantries, can be in short supply at local food pantries this time of the year. Knowing that many people are struggling to make ends meet, Cortland Enlarged City School students from Barry and Smith schools, along with the Cortland Kiwanis Club, are once again working to collect jars of unopened peanut butter, or any nut butter (almond butter, coconut butter, sun butter, etc.) to benefit the Cortland Kiwanis Club/local food pantry. Many of the classrooms set goals for themselves and teachers include the drive into the #OtherPeopleMatter ethos and Positivity Project character strengths. Working on projects like this can provide students with the opportunity to practice their teamwork, leadership and kindness strengths and to think about others ...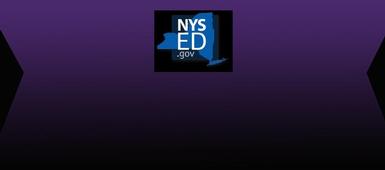 Regents Notification:

On December 21, our New York State Education Commissioner Betty A. Rosa announced that the January 2022 Regents were cancelled due to the ongoing pandemic. This cancellation applies to all Regents Examinations that had been scheduled for the January 2022 Regents Examination period. Due to the cancellation of the January 2022 Regents Examinations, the Department will ask the Board of Regents to approve modifications to the assessment requirements that students must meet to earn high school diplomas, credentials, and endorsements. We will be sure to communicate any approved modifications with students and their families once we are notified of the adjustments. No decisions have been made regarding the June and August 2022 administrations of Regents Examinations or any ...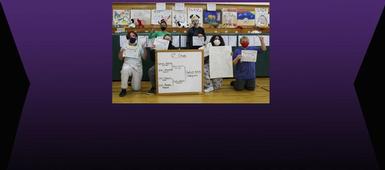 Randall Volleyball Tournament:

Prior to break, all Randall classes participated in an exciting schoolwide volleyball tournament. The students created their own team names and mascots which were very creative! Seven teams from the 5th grade and seven teams from the 6th grade went head to head in an intense tournament that could only end in one winner from each grade. Students took the tournament very seriously and participated in a poster creation contest, which included unique mascots for each team. The students enjoyed voting for their favorite poster as well as cheering on their favorite teams throughout the tournament. The Blue Bears team finished victorious in 5th grade. The Feetsicle Footsicles team were the champions in 6th grade. The schoolwide tournament brought students and staff together in a ...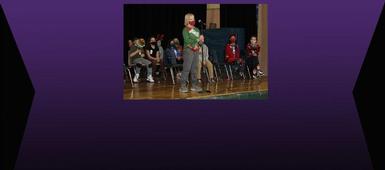 Randall Middle School Spelling Bee: The Randall Middle School Spelling Bee was held on Tuesday, December 21, 20 21. Each homeroom took a written spelling test, and the top two winners from each class competed in the Randall Middle School Oral Spelling Bee in the gym on the stage. It went for 9 rounds before our winner was declared. Check out t
CHS and Homer Basketball Game Honors former Homer Basketball Alumnus:

On Friday, December 3rd, the Cortland High School and Homer High School Boys Basketball teams met up for a night of basketball and fundraising. Fundraising was in honor of a former Homer basketball player, Blaise Dafoe, who passed away in September of 2019 of Marfan Syndrome. The December 3rd game was meant to bring about educational awareness to players and spectators in both districts. The game also helped to raise funds for the Marfan Foundation, a nonprofit whose mission is to help save lives and improve the quality of life for those diagnosed with Marfan Syndrome. Admission costs for the event were waived in lieu of donation buckets and at halftime there was a 3 point shooting competition for all fans with a small entry fee that went to the fundraiser. Information can ...
Next >> Viewing 1 - 20 of 132 stories