Cortland Musician Vincenzo Perfetti Recommended to Honors Ensembles
Vincenzo Perfetti achieved a perfect score on his level 6 All-State NYSSMA solo in the spring
of 2022. With that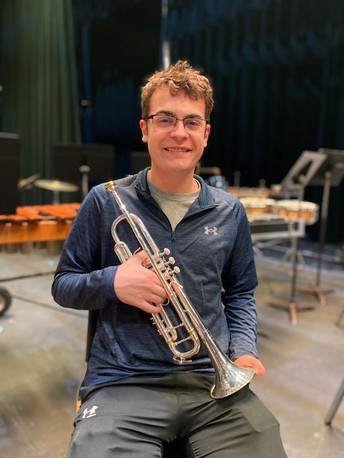 score, he was recommended to the 3 largest honors ensembles ranging from localized to state-wide festivals.
It is always the hope that a student is accepted into at least one, maybe two, of these ensembles but Vincenzo was accepted into all three! Vincenzo recently participated in the most select honor band in all of NYS, the NYSSMA Conference All-State Symphonic Band in Rochester, NY. They performed at the Eastman Theater. Vincenzo's next adventure will be in the NYSSMA Zone 3 High School Area All-State Concert Band at Ithaca College in early February 2023. After that concert, Vincenzo's 3rd honor band will be at the NYSBDA (New York State Band Directors Association) conference in Syracuse in March.
Vincenzo is an All-Star and a talented trumpet player and an asset to the community.