Cortland French Teacher Named as National Student Teacher of the Year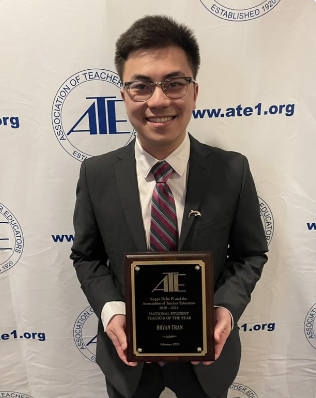 The Cortland Enlarged City School District is proud to announce that our very own JH French Teacher, Bryan Tran, has recently been recognized as the 2021 KDP/ATE National Student Teacher of the Year.

Since the award's establishment in 1994, KDP and ATE have named a very select few from around the United States as National Student Teacher/Intern of the Year. The award recognizes one student teacher/intern annually who has demonstrated the ability to plan and develop classroom management skills and instructional strategies that support all students; establish interpersonal relationships with students, parents, faculty, and staff; and reflect powerfully on their student teaching experience. Award winners are acknowledged with a $2,000 scholarship award and a speaking engagement.

Bryan is a 2021 graduate of Le Moyne College earning a bachelor's degree in French with a concentration in Adolescent Education and a minor in Philosophy. Mr. Tran is working toward a master's degree in French with specializations in linguistics and pedagogy from Middlebury College's prestigious School of French. Tran's student teaching experiences at two different public schools - in Chittenango, and Fayetteville Manlius.

Beyond his passion for truly connecting with students, Tran draws on his background of growing up in a bilingual and bicultural family, allowing him to develop skills for creating culturally diverse lessons and meeting the needs of all learners. "It is my priority to communicate, with enthusiasm, in hopes that my students would develop the same interest that I hold for the French language and culture." As a first-year teacher, he plans to adapt and adjust his planning, teaching, and assessment responsibilities to best meet his students' needs. This is Bryan's first year teaching and his immediate goals are to continue to foster positive relationships and to lead with love and teach with passion.

"I am incredibly humbled to be named the 2021 KDP/ATE National Student Teacher of the Year," Tran said. "I'm looking forward to taking the skills I've learned during my student teaching placements and using them in my teaching to inspire my students as a first-year French teacher."

On behalf of our students and staff, Congratulations Monsieur Tran! We are so proud of you!