ATHLETIC DEPARTMENT
Home of the Cortland Purple Tigers
FAMILYID IS OPEN FOR ALL VARSITY AND JV STUDENT ATHLETES, IN GRADES 9, 10, 11 AND 12, TO REGISTER FOR A FALL SPORT. DEADLINE FOR REGISTRATIONS IS AUGUST 16. IF YOU INTEND TO PLAY A SPORT OR PARTICIPATE IN CHEERLEADING, YOU MUST REGISTER IN FAMILYID (see link to FamilyID in the left column). PHYSICALS ARE AUGUST 7, 8 AND 9 - SEE SCHEDULE BELOW. Modified registration will open on July 29 for student athletes in grades 7 and 8.


A full calendar of contests can be found at Schedule Galaxy. You can also find games and rosters for other Section III schools along with maps of field locations.
| | |
| --- | --- |
| | |
---
Interested in playing a sport? ***REGISTRATION FOR JV AND VARSITY FALL SPORTS IS OPEN THROUGH AUGUST 16. MODIFIED SPORTS WILL OPEN ON JULY 29 AND CLOSE AUGUST 29.

If new to the registration system, you'll need to open an account or if a returning account holder, update your profile to reflect the new sport at (click) > FamilyID

or click on the link provided in the menu bar to the left and complete the necessary information to sign up for a sport. Registering throug
h www.familyID.com is the only way to sign up to participate in a sport including cheerleading. A valid physical that is less than one year old, from the start day of opening season, must be included

which can be uploaded into FamilyID or if in paper form, can be turned into the nurse's office. Open enrollment for any sport is 30 days prior to the initial start date of practices.
---

SUMMER 2018 PHYSICAL EXAM SCHEDULE
| | | |
| --- | --- | --- |
| DATE | TIME | |
| Tuesday, August 7 | 8:00 a.m. - 12:00 p.m. | Boys Only |
| Wednesday, August 8 | 8:00 a.m. - 12:00 p.m. | Girls Only |
| Thursday, August 9 | 8:00 a.m. - 10:00 a.m. | Boys - Make-up |
| Thursday, August 9 | 10:00 a.m. - 12:00 p.m. | Girls - Make-up |
All physicals will be conducted in the Nurse's Office of the Jr.-Sr. High School. Please be sure to either upload your physical information into www.familyid.com when you register for a sport or leave it in the dropbox in the Main Office for the nurse to place in your file.
---
CHS Athlete of the Week: Sadie Urtz and Micheal Williams
The CHS Purple Tigers Athletic Department would like to recognize Sadie Urtz and MIcheal Williams as this week's "Athletes of the Week".
Sadie is a freshmen on the Unified Basketball team which is in it's first year as a new athletic program for CHS. She contributed to making the season a source of fun for all on the team. Sadie is on the Honor Roll and also participates in tennis, basketball and coaches basketball for the Youth Bureau for grades 5 & 6.
Micheal Williams is a soon to be graduate of the Cortland High School and also a member of the Unified Basketball team. Micheal will be joining the workforce after graduation.
Please congratulate Sadie Urtz and Micheal Williams....Cortland High School's Athletes of the Week.
---
Congratulations Kathleen Starr and Cooper Swartwout - Section III Scholar Athletes.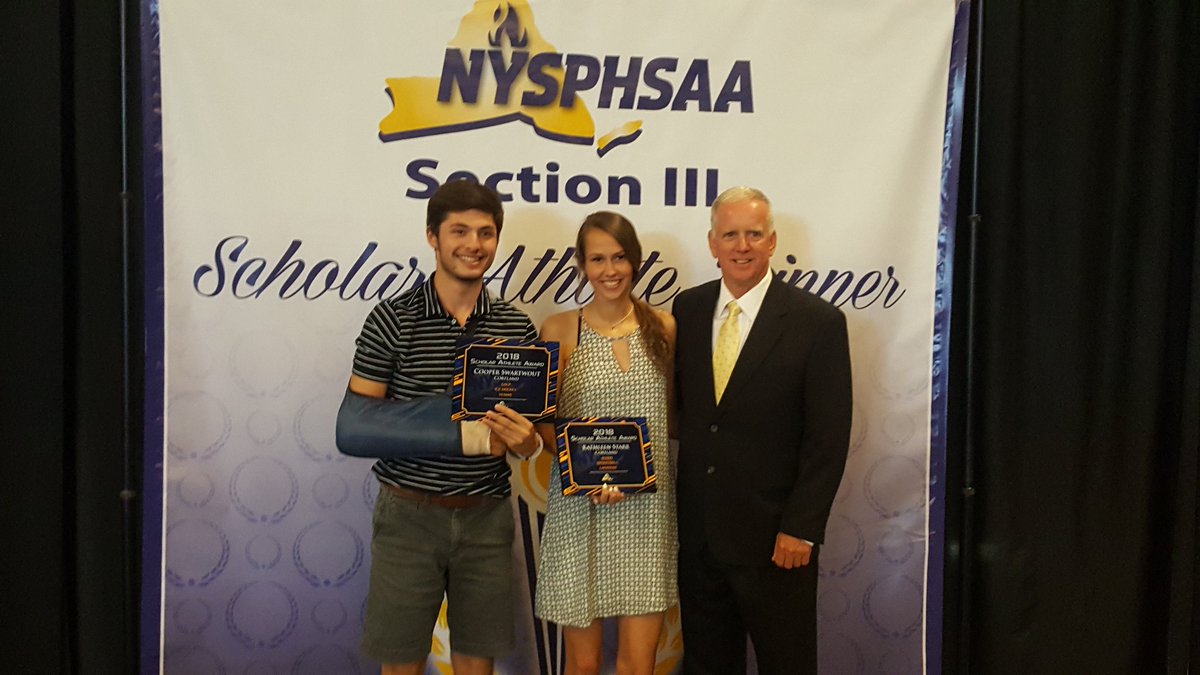 ---
Seniors that are looking forward to playing a sport in college:
First Row: Natalie Gier, Kelsey Gibbons, Alaina Rabusin, Taylor Hart, Jessica Kenyon and Lauren Phetteplace. Second Row: Logan McGee, Cameran Woodard, Alex Myers and Damian Brown
---
E-Mail Notification of Game Changes - You can "Subscribe to team updates" in Schedule Galaxy and receive an e-mail notification everytime there is a game change whether due to inclement weather, the need to reschedule due to a conflict, etc. Sign up today for this great feature and be notified of all changes to a teams schedule.
---
CHS Athlete Booster Club - new members always welcome.
What better way to show your support for the athletic programs and have fun working with fellow community members by being a member of the Athletic Booster Club. Please contact Machell Phelps for more information and for a membership form. New members are always welcome! Next meeting date is June 13th - 6:30 p.m. in Room 78 at the High School.
Athletic Booster Club Membership Form - just $5.00 for the whole family to join
"Athletic Links"