District News
Next >> Viewing 1 - 20 of 350 stories
School Tax Payments:

School tax bills will be mailed on August 31, 2020. For more information, visit the Business Office's Property Tax Information on the District website.
Reopening Commitment Form:

Previously, Superintendent Edwards asked families to update contact information and to respond to survey questions around the general ideas of reopening for the 2020-2021 school year. More than 1200 responses were received. It was a great response rate; thank you! Those responses helped the District construct its reopening plan. That plan can be viewed on the Reopening Planning Page . The District is now asking families to commit to in-person or remote learning for the first half of the school year. Families are asked to complete the Reopening Commitment Form to indicate the instructional model of choice for each K-12 child. Schools will use the information to plan for each child's learning. At this time, if remote learning is chosen as the model of ...
128th Commencement Ceremony:

On June 26, 2020 the 128th Commencement Ceremony for Cortland High School was a wonderful celebration for our Class of 2020. Although it looked drastically different compared to years past, there was an atmosphere of excitement and Cortland Purple Tiger pride. Instead of the traditional gathering with all graduates filing into SUNY Cortland with their families, graduates and families were assigned to one of four time frames at Cortland High School. For each time frame, graduates and families were asked to stay in their vehicle until the graduate's turn to receive their diploma. While vehicles were circling the line of Cortland Enlarged City School District buses displaying "Congratulations Class of 2020!" messages on the windows, Mr. Keith Palm played ...
2020-2021 Budget Results:

On June 16, the residents of the Cortland Enlarged City School District approved the proposed 2020-21 School District budget of $50,170,001. "Thank you to everyone who sent in their absentee ballot and voted," Superintendent of Schools Michael H. Hoose said. "Your support of the Cortland Enlarged City School District and its mission to educate the children of this community is very much appreciated." Voters: Approved a $50,170,001 budget for the 2020-21 school year that increases spending 1.2%, and carries a 1.09% tax levy increase: 2,042 yes, 733 no. Approved the purchase of student transport vehicles, including all necessary furnishing, fixtures and equipment, and the expenditure of a total sum not to exceed $529,000: 1,980 yes, ...
Postponement of Annual School Budget Vote and Board of Education Election by Absentee Ballot to June 16, 2020:

Governor Cuomo announced that the deadline for school election ballots sent via U.S. mail has been extended to Tuesday, June 16th. This extension does not apply to ballots delivered in person. These ballots still must be received by 5 p.m. on June 9th. The date of the annual meeting and general election has been chang ed to June 16, 2020. By Executive Order dated June 8, 2020, the Governor has ordered that: School districts receive absentee ballots via personal delivery through 5:00 p.m. on June 9, 2020, only. After this deadline, any receptacle used for personal delivery of absentee ballots must be removed, and the school district may no longer accept absentee ballots in person. School districts must continue to receive absentee ...
Statement from Superintendent Hoose Regarding Recent Events:

Dear Cortland Community, Recent, tragic events in our country have reminded us of the work we have to do as a nation to overcome pervasive and persistent injustice and racism. We all grieve with the family of George Floyd as well as for the other named and unnamed victims of racism and oppression. We must commit to actively and collaboratively address and challenge systems of injustice and intolerance. The success of our students is dependent on how we, as a district and a community, support all children and families affected by racism and prejudice. We must engage in the courageous conversations and reflect on the past while encouraging constructive conflict to arrive at solutions. We owe it to our children and society as a whole. We must begin the process with education ...
Cortland Board of Education Appoints New Superintendent:

The Board of Education of the Cortland Enlarged City School District is pleased to announce that it has selected Robert Edwards as its next Superintendent of Schools. His formal appointment as Superintendent of Schools took place at a special board meeting on May 28, 2020 with an anticipated start date of July 1, 2020 Mr. Edwards currently serves as Executive Director of Instruction and Personnel at the Phoenix Central School District, a position he has held since 2016. His prior administrative experience includes four years as a Building Administrator for the Baldwinsville Central School District. As many in our community are aware, Mr. Edwards taught social studies in the Cortland Jr/Sr High School for many years prior to his career in school administration. The Board is excited to ...
2020-2021 Budget Update:

The Cortland Board of Education began the process of creating the 2020-21 school budget six months ago, prior to dealing with Co vid-19 and all of the changes associated with dealing with the virus. As you are aware, it has taken a toll in lives lost and created huge financial challenges across the nation, especially in New York State. The proposed budget reflects a 1.2% budget increase and a 1.09% tax levy increase. It is the first budget increase for the District in five years and it is the first budget in nearly a decade that does not use our dwindling reserves to balance the budget. It was a challenge to develop a budget with such a small increase due to the increasing costs in health care, contractual obligation, and legacy costs. The Board had to make difficult ...
Athletic Stadium Will Light Up to Honor Seniors May 15, 2020:

On May 15, 2020 Cortland High School's athletic stadium lights will turn on at 8:20 p.m. and shine bright for 20 minutes to honor the class of 2020. Community members can show the #WeAreCortland spirit and join the celebration by turning on their home's exterior lights during this time. If you have the chance to get a purple lightbulb, lighting your porch or exterior of your house purple would be a plus! Those wishing to view the illuminated stadium on May 15th must do so from a distance and remain inside their motor vehicles. The District's outdoor facilities, including the athletic stadium, will remain closed to the public as such social gatherings are prohibited. Please use the same loop for student pick up/drop off that has been taking ...
Budget Vote by Absentee Ballot June 9, 2020:

Pursuant to the Governor's Executive Order 202.26, the annual budget vote and school board election has been scheduled for June 9, 2020, and will be held by absentee ballot only. The public hearing on this year's proposed budget will be held remotely on May 26, 2020 at 6:30 p.m. Information on how to access the hearing will be posted on the District website at www.cortlandschools.org. All registered voters of the Cortland Enlarged City School District will be sent an absentee ballot together with a postage-paid return envelope and instructions for completing the same. Any qualified voter that is not registered, please contact the District Clerk at 607-758-4100 X2202 to obtain a ballot. To be counted, all completed absentee ballots must be received in the ...
Science Honor Society Makes Videos for Barry Primary Students:

Distance learning has provided a unique opportunity for students in the Science Honor Society. Advisor Charles Canestaro s aid, "the students in Science Honor Society approached me looking for ideas to help out other teachers with teaching science. After some brainstorming we decided to try and help elementary school teach science. One group of kids are helping coordinate the kindergarten unit on weather. They will be making videos and such that will be posted on the portal for K students to watch. Another group is working with Tom Dovi and Julie Lundeen to make phun videos that involve simple experiments and demos for 1st and 2nd graders. I'm super excited and super proud of the group, they genuinely love science and really want to encourage others to appreciate the wonder the ...
Senior Athlete Spotlight:

If you have been following our social media accounts, you cannot help but notice the senior spotlight graphics that have been coming out each day on the @CECSD_Athletics account. Celebrating our senior student-athletes is something that the Athletic Department felt was important to do this spring. Athletic Director Tim Wagoner said, "We wanted to do something to honor our student's senior season. Many of these athletes play 2-to-3 sports for the Cortland Tigers Athletics program. I decided to contact each senior and ask them for photos, and a favorite highlight or achievement from their high school athletic career. This was a great way for me to reach out to them and discuss their future plans and reminisce." The images below are the Senior ...
CHS Student Continues to Run Purple Pantry:

11th grade student Alex Shaffer has long been aware of the issues that many Cortland families face regarding food insecurity. "My mom is the executive chef at Guthrie hospital and she always told me that a quarter of families in Cortland County struggle with food insecurity. Knowing that number was so high, I came up with a plan two years ago to expand the Cortland High School Purple Pantry." The Purple Pantry is normally run out of the English Department book room and it is meant to target students at Cortland High School. Alex explained, "I saw a need because we have a backpack program for students at the K-6 level. So if high school students had a younger sibling they would get a backpack of food on the weekends. But if the high school student did not have ...
Smith Intermediate School Supports Local Community:

When the COVID-19 closure happened, Principal Angela Wanish and her staff knew they had to find a way to support the Cortland community. Principal Wanish said, "I kept thinking about all of our families who, due to COVID-19, are currently unemployed and not getting paid. So m any of our families depend on the school to feed their children breakfast and lunch. Now, they will also need the support of our community resources, which means our local food pantries will be relied upon more heavily than usual. We quickly put together a food drive to help fill this need." During the last week of March through April 3rd, teachers dropped off food items in a donation bin outside of Smith Intermediate School. Staff in other buildings were also encouraged to donate items ...
Retired Cortland CECSD Employee Makes Masks for Essential Employees:

Laura Simon retired five years ago from the Cortland Enlarged City School District after twenty eight years of service as the District Tre asurer. Although she has been officially retired, Laura has continued to help the district with special projects and training new business office employees. During her time with the District, Laura has helped out in many different ways -- when there has been a crisis or a need with which she thought she could assist. When COVID-19 forced us to shift to distance learning, Laura saw another opportunity to help. She observed that there were essential workers who still came to work assisting with food distribution, including food service employees, bus drivers, and some teacher aides. Laura realized that she could use her sewing and quilting skills ...
Cortland Family 3D Prints Shields:

"When I was a boy and I would see scary things in the news, my mother said to me, "Look for helpers. You will always find people who a re helping." -Fred Rodgers This is the quote that inspires the Senno family to look for ways to help no matter what our country is facing. During this time of the COVID-19 outbreak, we have all been facing the reality that our country is facing. The Senno family is composed of mom Paula, father Norman "Andi", daughter and Smith Intermediate student Lauren, Randall Middle School student Caden, and Cortland High School student, Brett all came together to figure out a way they can help. Lauren said, "my family has been working on making face shields for people that need them. My dad figured a ...
District Update March 25, 2020:

All of our lives have changed in the past weeks. This situation is unprecedented and we are trying to adapt the best we can. Rest assured that everyone in the Cortland Enlarged City School District, like everyone in our community, is completely committed to the well-being of all. We know that Cortland County declared a state of emergency on March 15, 2020. The District has shifted to distance learning at least until April Break. We are scheduled to return to school after April break (at least for now). During the time our students are distance learning, we have continued to provide instruction. A portal is on the district webpage where all assignments are communicated -- it will be updated each week by the end of the day each Thursday. Information such as how to contact ...
2020 Winter Sports Wrap Up:

Click on the link below to jump to the recap for the specific sport. Girls Varsity Volleyball , Girls Varsity Basketball , Boys Varsity Basketball , Varsity Girls Indoor Track , Varsity Boys Indoor Track Varsity Cheerleading , Varsity Boys Wrestling , Varsity Boys Ice Hockey , Girls Varsity Bowling , Boys Varsity Bowling This winter, close to 400 students participated in our modified, JV and Varsity programs! A highlight from the winter season was th at the Girls Volleyball team won the Section III Class A Championship on 2/15/2020! Below is a recap of how all of our sports teams did. Girls Varsity Volleyball - Cheri Olson, Head Coach Girls Volleyball finished a successful season by clinching the Section ...
2020-2021 Budget Outlook & Fiscal Health of the District:

The Cortland Enlarged City School District strives to provide a rich and engaging educational environment while being fiscally responsible. Each year, balancing the budget gets increasingly more difficult due to the following reasons: Increases in health care costs Contractual obligations Large increases in out of district placements In addition to the increase in expenditures listed above, the District has used its reserves or "savings" to close the gap between revenues and expenditures since the 2015-2016 school year. Due to the continued use of our savings in this way, Cortland has been deemed one of the five districts to be in "moderate stress" by the NYS Comptroller . This is not a designation we wish to have moving forward, however ...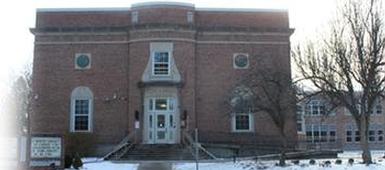 Cortland Voters go to the Polls March 31, 2020 to Decide on the Sale of Parker School:

Due to declining enrollment, the Board of Education made a difficult decision to close both Virgil and Parker Elementary Schools at the end of the 2018-2019 school year. We have been working with the City of Cortland and the Town of Virgil to plan for the potential sale of the buildings. After securing an independent appraisal for the building and having a number of meetings with the City of Cortland, we were able to negotiate a contract for the sale of Parker Elementary School. The City plans to rent the building to the YWCA and CAPCO who will provide affordable daycare and early childhood education services. There is a Facebook page titled, " Vote Yes Parker '' available to view. In order for the district to sell the building, a vote must be held. Therefore, ...
Next >> Viewing 1 - 20 of 350 stories